The Monforte Home Farm
The last vouchers to the subscribers for Monforte Dairy went out in December and many people asked, what's next? What can we invest in next? What can they invest in next, Ruth?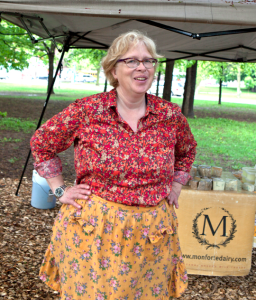 Ruth: Well, we know…I mean, the last five years were so magical…and that was such a wonderful debt. It was so great. To repay those vouchers on a weekly basis was huge in terms of the pleasure that it gives. You know you have other debt. You have bank debt and credit card debt that you need to service and those are sometimes painful just because they're not based on relationship. When someone comes to the market with you and you exchange vouchers for product that you've helped make, that's like the coolest relationship for debt that there is. We know that we can service that much debt, so then the thing is what do we want to buy or acquire or utilize where we can keep that debt going because it's been so good for the company in just creating some kind of community. It's been imperfect. We've made lots of mistakes. We haven't nailed it. We've learned that data entry is probably the most important thing you can do when you set up a program like this. So we need to get better at that. I guess we want a second chance at doing that better. I just think people are interested in staying as part of that. Like I said, given that we can service the debt so what would make sense for Monforte next in the evolution of the company? We think it's the Monforte Home Farm.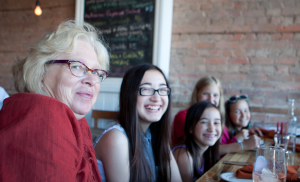 For the people who are our new friends or simply friends who buy at market, but haven't invested in the subscription before, can you just outline briefly what that looks like?
Ruth: We ask people if they were willing to spend $200.00 or $500.00 or $1,000.00 in Monforte and so for $200.00 and over five years they got $50.00 per year, they get $250.00 over five years and for $500.00 over five years, $150.00 per year, so they get $750.00 and for $1,000.00 over five years, they get $300.00 a year. So it just ramps up depending how much they put in. For those vouchers or that equity, they can use it anywhere in Monforte that is a direct sale. So they can buy cheese, eat at the Osteria they can spend it on the farm, they could come for dinner at the farm. So any of the things that we produce within Monforte are valid as currency for that debt. This is the CSA model [Community Supported Agriculture].
What is a Home Farm?
Ruth: Home farm is an old English term – the Prince of Wales uses it. His Duchy has a home farm. I believe it was the original homestead, that became sort of the home base and all the kids would buy farms around that,but the home farm was where you started and where you went back to.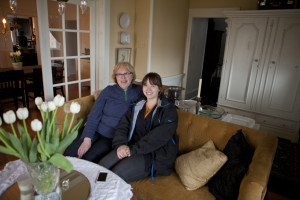 How does the Monforte Home Farm connect to making cheese and the Monforte Dairy?
Ruth: I think it's the last piece of the puzzle. I think it rounds it all out. For Monforte it gives us a place where it finishes it where you end up on the ground – really from the ground up. They'll be animals that we will milk and we will grow things and we'll cook with all of that and I think it's just the last piece.

How do you see the community interacting with Monforte on the home farm?
Ruth: Monforte's community? I hope it's their home farm. I hope it's a place where they can come for sustenance and for food and for revitalization. We want people to come and stay. We want people to come and be involved. They don't have to help, but if they want to be part of it that would be great. We just want it to be their place so they can come and buy, eat, learn, evolve.

I have two Clydesdales and we're breaking them to work…I mean, they've been broken to drive. This summer we're going to practice ploughing and I have no idea how well we'll do. I've got a couple of ploughs and a scuffer. We'll have to use tractors and stuff, but yeah, for sure. Hopefully part of the pleasure of the place will be people learning to meet my horses and hang out with them. They're pretty special beings.
If you would like to invest CSA style in the Monforte Home Farm – you can do so online at monfortedairy.com/or you can mail us a cheque for $250, $500 or $1000 directly to the dairy – saving the transaction fee.
Monforte Dairy
49 Griffith Road,
Stratford, ON
N5A 6S4
Attention: Ruth Klahsen
___________________
Monforte has always felt the need for a direct connection to the earth, for a way to connect subscribers and community through farming, and a home farm felt right on so many levels. Imagine gardens, animals, a place to show and tell about preserving, fermenting, foraging, milking and the preparation and sharing of food in a dining room, family style in the barn, in the middle of the field.
At Monforte, we're convinced that the small things do indeed make a difference, that agriculture is best practiced on a human scale, and that our cheeses, each in its own way, reflect something a little deeper than the technology behind mass-manufactured food – a little of the poetry and passion of life itself.
We are calling this CSA: Futures in Farming
The Monforte Home Farm is an extension of our efforts at the Dairy and in the Osteria, where we explore sustainability, artisanal food production and support for the farmer. We believe that people want to understand, at the most fundamental level, what it takes to produce and prepare food goodness. We hope the farm will be where our community comes for sustenance, for learning and for revitalization. Ultimately, we hope that the Monforte Home Farm model is one that others will replicate, especially around preserving land for farming.