This window frames the view from the kitchen and provides light until the lanterns are lit. There are no light switches to speak of because there is no electricity. Really.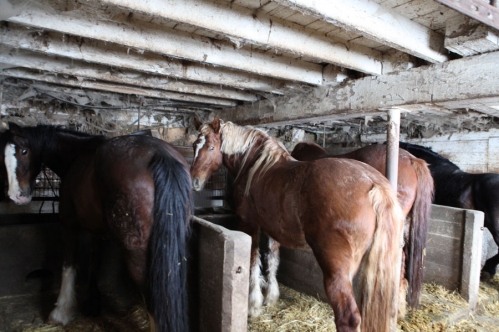 As soon as you step foot in the barn the animals know they have a visitor. There is curiosity and also a greeting. Hello, Hello, Hello. The horses turn to look. the pigs grunt with interest.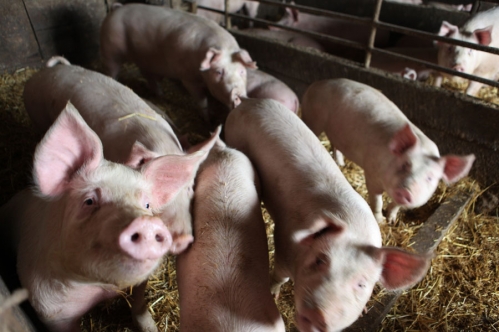 I have seen other farms, much much larger where the animals are not so alert, so interested in who is visiting. These photos prompt people to say: my grandfather's farm, my childhood farm. Back to a more humane existence.


There were piglets born 3 hours earlier. There were Christmas Day piglets. And downstairs were the older pigs.








So imagine Linwood; a tiny little mostly conservative Mennonite village north of St. Jacobs, talking about local for goodness sake; I mean really; these are people who grow and raise all their own food; and you are there talking to them about why they should buy your expensive sheep milk cheese.
And then you meet him; and he says to you in an Iowa accent; so you make cheese; and you think; if I could be conservative Mennonite this would be the ideal thing going on; but he is the coolest most honourable of humans; and you realize that you are in the presence of a farmer so amazing who doesn't know he is amazing because that would be vain and that is unacceptable.
And his eyes twinkle.
And he raises pigs.
So here goes the thinking; because one is always thinking; if he took my whey we could replicate the European model. Cheese; whey; pork; full circle.
Not only that but David also grows wheat which he mills and we make into crackers and granola.
His name is David E. M. Martin and he is our pork farmer and an extraordinary human being but don't tell him.  That just wouldn't do.
But in the mean time; if you can; buy his pork or his flour because he is a really good farmer; ethical; honourable and so humbly intelligent. He is what will save our world.
Ruth Klahsen, Monforte Dairy, Stratford ON
ruth@monfortedairy.com
Thanks David, for everything you are.
P.S. Please contact the dairy to find out how to purchase pork, flour and sausages from David's farm. (519) 814-7920