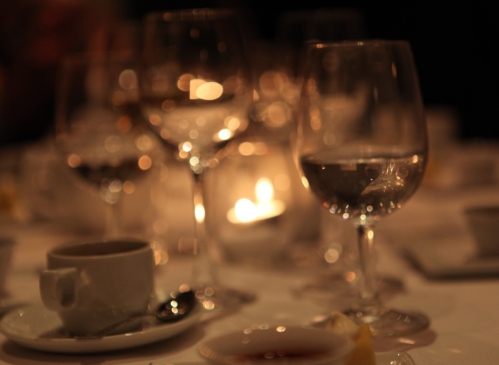 We were a party of five at the Stratford Chefs School: Julia Christensen Hughes, Aziza Chaouni, Ruth Klahsen, Kimberley Payne and myself, Nora Camps. We were Ruth's guests. Before founding Monforte Dairy, Ruth was a chef and a teacher at the Stratford Chefs School.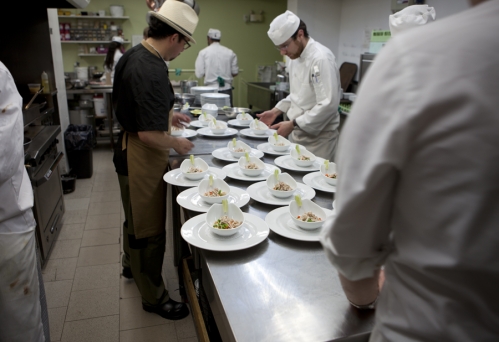 This evening the guest chef was Francisco "paco" Alejandri, himself a graduate of the Stratford Chefs School in 2001. Today Francisco has a restaurant at 214 Augusta  Avenue in Kensington Market, Toronto. The restaurant is called Agave y Aguacate. The student chef was Kevin Peralta.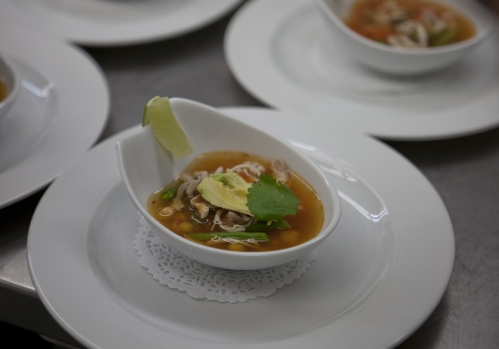 The first plate was shrimp and crap or saragalla tostadas. Pictured here is Tlalpan style soup or Caldo Tlalpeño.

The next plate was stuffed pickled poblanos served with huacha beans and a light tomato broth.

I must say that the stuffed pickled poblanos was my favorite plate of the evening.


The last plate was poached fish in caper and almond sauce.



Dessert was a spiced chocolate torte with avocado ice cream.

A spiced hot chocolate. Morocco tea and expresso cafe finished the meal. It was wonderful cooking, great service in a lovely atmosphere. We could easily forget that these were students. Our conversation matched the dinner course for course. Salty, spicy, savory, bitter, sour and certainly sweet.  Thank you Ruth.